Dr. Cheryl Meola, PhD, LCMHCS, NCC
---
---
Cheryl is the founder of Mane Source Counseling and one of the founders of Horses and HEALTH Inc. Her love of being around horses started very young when she used to catch rides on ponies at her aunt's farm. At 10, her grandmother Elsie bought her a horse of her own. She worked off her horse's expenses by cleaning stalls, feeding horses, and teaching lessons all the way through college. Before getting her masters in Counseling, Cheryl was a professional horse trainer, instructor and intercollegiate coach for 20+ years.
During her Masters studies at Bridgewater State University,  Cheryl started working with a mentor in equine assisted counseling.  After moving to North Carolina, she obtained her PhD from East Carolina University and started Mane Source. Cheryl's current credentials are:
Licensed Clinical Mental Health Counselor Supervisor, NC

Licensed Mental Health Counselor, MA

National Certified Counselor

PATH International Certified Therapeutic Riding Instructor

PATH Equine Specialist in Mental Health and Learning
She works closely with local Equine Specialists in Mental Health and Learning to ensure the equine assisted activities are provided in the safest, most therapeutic environment possible for both the clients and the horses. She is currently pursuing certification in Rapid Resolutions Therapy and in Natural Lifemanship: Trauma-Focused equine assisted counseling.
She also facilitates Wellness Coaching for Stress Reduction, Supervision and Consultation for counselors , and continuing education workshops at the farm.
Cheryl is the author of Anxiety~The Joule Thief: How to Take Back Control of Your Life, a guide to prioritizing our energy use and moving from fear-based stress responses to empowered responses. Check out www.cherylmeola.com for info on how to purchase the book and for some free resources on managing your energy and stress reduction.
Clinical Staff
Charity H. Montelongo, MA, LCMHC
---
---
Charity has been in the mental health field since 2010. She is a retired US Army staff sergeant with an overseas tour in support of Operation Iraqi Freedom III.
She started her career working with children in an inpatient setting. She was passionate about working with veterans after seeing so many of her battle buddies struggle with Post-Traumatic Stress Disorder. She transitioned to working with homeless veterans to fulfill this passion.
Further along in her career, she again worked with children along with their families as an Intensive In-home team lead, and in outpatient settings. Within the last two years, she had been working with children and adults of all ages with a variety of mental health, substance use disorders, and relationship difficulties. She started at Mane Source in Fall of 2019 to be able to work with multiple populations in the same setting.
"I have learned that people have unrealized strength, and knowledge within themselves. My passion is helping them realize this potential. My time in the mental health field has shown me that people are capable of more than they realize.I help people in processing their thoughts, emotions, behaviors, and developing coping skills to foster progress towards their goals."
Lauren Bethune Scroggs, PhDc, LCMHCA, LCASA, NCC, NCMHC
---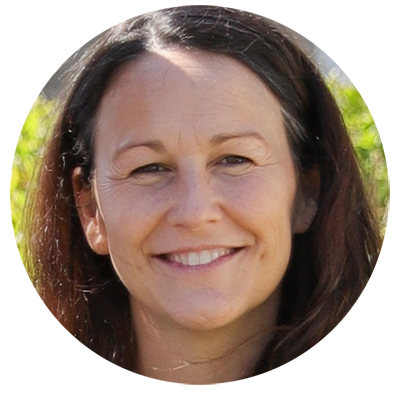 ---
Lauren is a native of Chapel Hill who relocated to Greenville for school. She has a MS in Substance Abuse and Clinical Counseling with certificates in Military and Trauma Counseling and Rehabilitation Counseling from ECU. She is currently finishing up her Ph.D. from ECU in Rehabilitation Counseling and Administration.
After graduating from UNC, Lauren lived in the US and British Virgin Islands working as SCUBA instructor, first mate, and chef on term charter sailboats and as a SCUBA instructor at local dive shops for 5 years before returning to NC. Lauren has lived and traveled in many areas of the world.
She has worked with a wide range of populations, including adolescents, adults, students, veterans, and clients in court proceedings, and specializes in biofeedback, mental health, and substance use and misuse counseling.
She is completing further training in Biofeedback services and Eye Movement Desensitization and Reprocessing (EMDR) that she integrates into her practice with clients.
Michael Sisley, LCMHC, CRC
---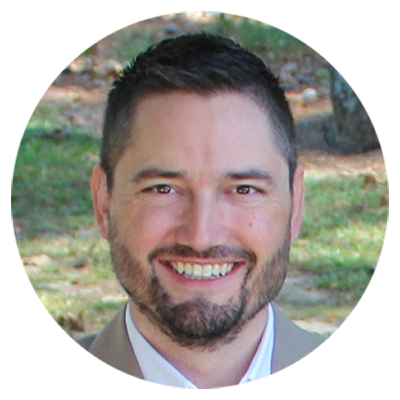 ---
Michael began his career in mental health after graduating in 2004. He began by working with individuals and often their family members in their homes, in their schools, and in their communities (including basketball courts, skateboard parks, neighborhoods, libraries, and various other settings). By 2013, he was working for the State of NC as a counselor for Vocational Rehabilitation - helping folks address work-related issues relating to various diagnoses including mental health. In 2017, he began working as a therapist in private practice.
"In 2016, my wife and I began the adventure of parenthood and in 2019 we added to the adventure by having a second child (we even kept the first child). Two little girls, my wife and her mom all under one roof. Perhaps if more clients knew this, women clients wouldn't be as surprised to find out that working with me (a male therapist) was so particularly helpful."
There are a number of times where the seemingly mundane challenges can spiral out of hand. Likewise, there are a number of times where a major event or events can rock someone's world in a less than favorable way. Whether the challenges are with work, with relationships such as family (including preparing to be a mom or a dad and/or parenting), or problems with spouse/significant other, and even if the difficulty you are having is with thee, thyself and you, I believe I can help you make the shift in your life you want.
Does any of the above sound like something you have and/or are dealing with? Do you ever think to yourself, "I am tired of things being this way" or "I am tired of being this way?" If you are old enough to talk with me than you are not too young or too old for me to be able to assist you. Male or female, I can help you.
I look forward to talking with you soon.
Equine Staff
Malaika King Albrecht, BS, MA
---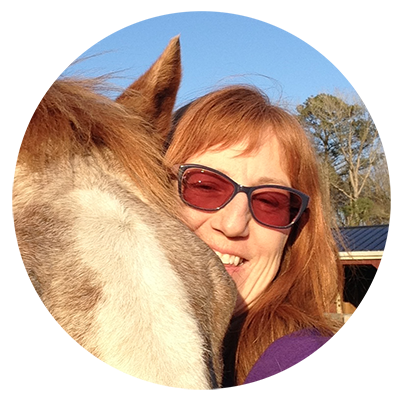 ---
Malaika is the owner of Freckles Farm and an incorporator of Horses and HEALTH Inc. Malaika is a PATH International Certified Therapeutic Riding Instructor and Equine Specialist in Mental Health and Learning.
She won PATH International's credentialed professional of the year for Region 3 in 2019 for her hard work and dedication as Executive Director of a Path Premier Therapeutic Riding Center. She's completing her certification as a Masterson Method Equine Specialist which allows her to teach this equine healing method in sessions with clients. She has begun training for level one certification with Natural Lifemanship.
A Master Reiki practitioner, she also offers reiki and equine sports massage for all of our hardworking equine partners. She lives on Freckles Farm with her daughters and 7 horses and a mini donkey, along with chickens, ducks, rabbits, cats and a dog.
Gunner
---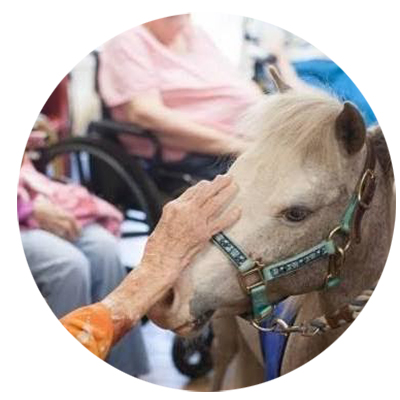 ---
Gunner, an Appaloosa, was born on 9/01/2013 and is a registered miniature gelding. He came to Freckles Farm as a young stallion from a bad situation, and after training, he worked as therapy horse through Minis on the Move, visiting hundreds of pediatric patients, expectant mothers, and cancer patients at Vidant, and residents of multiple nursing homes in Pitt County. He worked with Pitt County Sheriffs' in the Building Bridges Program, and was even deputized as a volunteer Deputy by Sheriff Elks. He has also worked with veterans from the Wounded Warrior Project.
What he lacks in height, he makes up for in personality! He's outgoing, curious, and a bit mischievous. He likes to take selfies with friends and thinks strangers are just friends he hasn't met yet!
Sammy
---
---
Sammy, a chocolate palomino, was born on 1/01/2010 and is a miniature gelding. He came to Freckles Farm as a 5 year old from a bad situation, and after training, he went to a therapeutic riding center and worked with many children and adults with disabilities. Both he and his friend Gunner were deputized by Sheriff Elks, and they visited hundreds of pediatric patients, expectant mothers, and other patients at Vidant, and residents of multiple nursing homes in Pitt County. He enjoys ground work although he takes a while to decide if someone is safe.
Sammy was abused and therefore, distrusts most people. An introvert by nature, he likes to watch from a distance and will rarely offer to meet you. His exception is quiet people who are patient enough to allow him to slowly warm up. Don't be fooled though; he's the boss of the mini herd and enjoys his job!
---
---
Wee Donkey is a miniature donkey gelding, born on 1/01/2014. He came to Freckles Farm with Sammy, Gunner, and Black Jack from a bad situation. He was feral when he arrived as a yearling and couldn't be haltered or even pet. With training and the patience of Malaika's youngest daughter, Serena, Donkey eventually decided humans were useful. He is now quite sociable once he's decided to meet someone, and like Gunner, he likes to take selfies with friends. He's very curious and has been known to pick-pocket cell phones.
Apple
---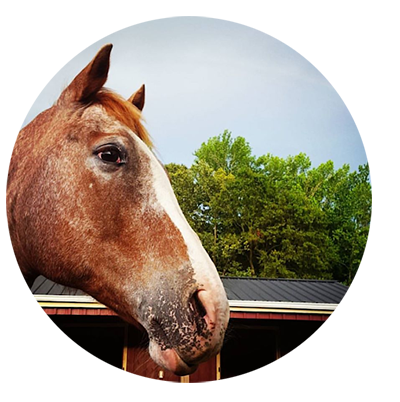 ---
Apple, an Appaloosa mare, was born on 1/01/2003. Before she came to Freckles Farm almost a decade ago, she was owned by a teenager and enjoyed running free and fast down wooded trails. She has worked with Dr. Meola of Mane Source Counseling as a partner in equine facilitated psychotherapy. Apple enjoys working with clients and is comfortable in particular with those who have anxiety or PTSD. She's an outgoing horse and very curious. She will be the first to greet most strangers and will insist on neck rubs and back scratches from her fans! She assists with horse yoga too and enjoys rides with her friends in the woods.
Bonnie (Bonita)
---
---
Bonnie, a bay mare, was born on 1/01/2000 and was a polo horse before the Albrechts bought her for polocrosse over a decade ago. She is the pasture-mate of Apple and is quietly the boss. More introverted than Apple, Bonnie chooses who she wants to work with and prefers introverts like herself. Much like Ellie and Sammy, Bonnie reminds folks to lower their energy before approaching with the horseman's handshake. She's got a silly sense of humor once she knows you, and though she's retired from polocrosse due to injury, she still likes to ride and participates in horse yoga with Apple. She too has partnered with Dr. Meola's clients in equine facilitated psychotherapy and enjoys working with ground school.
Black Jack
---
---
Black Jack is a black miniature gelding born on 1/01/1999 who came to Freckles Farm from a bad situation along with Donkey, Gunner, and Sammy. We were told he was much younger, and he's likely even older than estimated. He is outgoing and likes affection. He likely has physical pain from arthritis and locking stifles, so he moves slowly sometimes. In the winter, he is a wooly mammoth.
Louie
---
---
Louie, was born 2/10/1997, and is a registered Quarter Horse. He's a chestnut gelding who retired to Freckles Farm after a decade at Rocking Horse Ranch working as a therapeutic riding horse. He has Equine protozoal myeloencephalitis (EPM), a disease caused by a parasite that affects the central nervous system of horses. He has greatly recovered here and now is cleared for riding once again. He was on the Special Olympics team and competed in Raleigh several years as an equine partner for children with disabilities.
Octavia
---
---
Octavia is an 11 year old mare who was born in Illinois. Her father's name is Maruka and he was actually a very fancy pony! Her mother was a Holsteiner mare named Oasis. She is in her first year of being a therapy horse. She came to NC to do some rehab from the cold north, and has been progressing in her training by leaps and bounds. She is friendly and polite, but her manners cover a very sensitive horse who would rather not be around people who cannot control their energy. As she learns to relax and decompress at Freckles Farm, she is more open to exploring new situations and her natural curiosity takes over more and more. Her favorites are neck scratches and peppermints (on special occasions!)